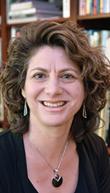 Dean of the Faculty of Arts and Sciences
Vincent J Scully Professor of Philosophy
Professor of Psychology and Cognitive Science
---
Tamar Szabó Gendler is the Dean of the Faculty of Arts and Sciences at Yale University, and the Vincent J. Scully Professor of Philosophy. She has also holds secondary appointments in the Department of Psychology, and in the Humanities and Cognitive Science Programs. She holds a BA summa cum laude with Distinction in Humanities and in Mathematics-&-Philosophy from Yale University (1987) and a PhD in Philosophy from Harvard University (1996).
From 1997-2003, she taught philosophy at Syracuse University as an Assistant and then Associate Professor. From 2003-2006, she was Associate Professor of Philosophy at Cornell University and Co-Director of Cornell's Program in Cognitive Studies.
She returned to Yale in 2006 as Professor of Philosophy and Chair of Yale's Cognitive Science Program. In 2010, she was appointed Chair of the Yale philosophy department, becoming the first woman chair in the department's two-century history and the first woman graduate of Yale College to chair a Yale department. In 2013, she was appointed Deputy Provost for Humanities and Initiatives, a position she held until she assumed her current role.
During 2009-10, Gendler was a full-time student at Yale University (taking courses in Neuroscience, Psychology and Psychiatry), supported by a Mellon New Directions Fellowship. She has also held Fellowships from the National Endowment for the Humanities, the National Science Foundation, the American Council of Learned Societies/Ryskamp Fellowship Program, and the Collegium Budapest Institute for Advanced Studies. In 2013, Gendler was awarded the Yale College-Sidonie Miskimin Clauss '75 Prize for Excellence in Teaching in the Humanities.
Gendler is the author of Intuition, Imagination, and Philosophical Methodology (Oxford, 2013), Thought Experiments: On the Powers and Limits of Imaginary Cases (Routledge, 2000), and co-editor of The Elements of Philosophy (Oxford 2008), Perceptual Experience (Oxford, 2006), Conceivability and Possibility (Oxford 2002), and the Oxford Handbook of Philosophical Methodology (Oxford forthcoming). She is also co-editor of the journal Oxford Studies in Epistemology.
Her philosophical articles have appeared in journals such as the Journal of Philosophy, Mind, Philosophical Perspectives, Mind & Language, Midwest Studies in Philosophy, Philosophical Studies, and The Philosophical Quarterly. Her 2008 essay "Alief and Belief" was selected by the Philosopher's Annual as one of the 10 best articles published in philosophy in 2008.
Gendler lectures regularly for non-professional audiences; several of her courses and lectures are available online.