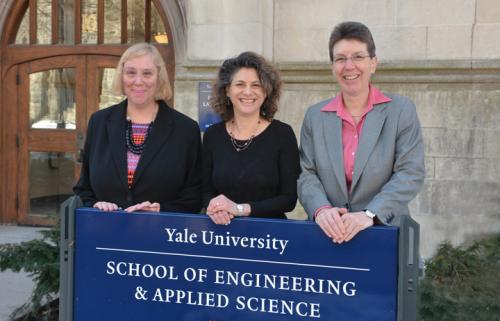 The university has announced important steps in a long-planned expansion of the Department of Computer Science, with enhancements in both faculty and classroom resources.
The move reconfirms Yale's commitment to the study of computer science, as well as its desire to reclaim a leadership position in exploring new frontiers of knowledge. It also reflects the growing and pervasive role of computer science in higher education and interdisciplinary research, and acknowledges that, from creating new smartphone apps to participating in campus hackathons, programming skills are fast becoming an essential part of the college experience.
At Yale, strategic planning to enhance the Department of Computer Science has been ongoing since President Peter Salovey's inauguration in 2013. It became a top priority for the university's new dean of the Faculty of Arts and Sciences, Tamar Gendler, after her appointment to the position last July. The university has been working closely with faculty and donors to establish a framework for substantial growth in research and teaching.
"Increasingly, the skills at the heart of computer science are the means by which we move ideas forward in today's world," Salovey said. "With this expansion, and with the help and generous support of our alumni in the technology community, we are acknowledging the vital importance of those skills."
Gendler called the enhancements "game-changing" and noted that "Yale is committed to building a world-class Department of Computer Science. These changes leave us poised to build on Yale's traditional strengths, while opening new horizons."
Yale will use substantial gifts from two anonymous donors, plus other resources, to conduct searches for seven faculty positions in the Department of Computer Science over the next few years, including two searches this year and three more next year. Once the new positions are filled, the department will have 26 ladder faculty members. It is the biggest increase in faculty resources in computer science in more than 30 years.
"I'm absolutely delighted," said Joan Feigenbaum, department chair and the Grace Murray Hopper Professor of Computer Science. "This is a great first step toward the big and excellent Department of Computer Science that Yale needs for the 21st century."
University officials acknowledged that even at 26 ladder faculty members, the department will be modest in size. However, the newly announced expansion establishes a positive foundation for further potential growth. "Our ultimate goal at Yale is a great Department of Computer Science that plays an essential role in Yale's mission as a world leader in research and education," Feigenbaum said.
A number of prominent Yale alumni in the technology sector also praised the expansion, including Joseph Tsai '86, '90 J.D., executive vice chair of the e-commerce company Alibaba Group; Ben Silbermann '03, co-founder and CEO of Pinterest; and Justin Kan and Emmett Shear, both Class of 2005, co-founders of the videogame-streaming company Twitch, who are both now with Y Combinator.
"If you run a tech business, you understand the importance of talent and inspiration to the future of your company," Tsai said. "A Yale education has always been about channeling one's passions and knowledge into creating something unique. The network of Yale alumni leaders in tech is robust and growing, and I look forward to seeing how the innovations that emerge from this expansion will add to the momentum on campus and among alumni."
"The values taught at Yale — creativity, teamwork, perseverance — are core values for succeeding in the tech world."
— Ben Silbermann '03, Pinterest co-founder and CEO
"The values taught at Yale — creativity, teamwork, perseverance — are core values for succeeding in the tech world," Silbermann said. "The best technology leaders combine creativity and strong quantitative skills. By further strengthening the Department of Computer Science, Yale will be able to inspire more students to be successful leaders for years to come."
A key element in the expansion is the close connection between computer science and engineering. Acknowledging that high level of collaboration, Yale's Department of Computer Science will join the university's four engineering departments as part of the Yale School of Engineering & Applied Science (SEAS), a "school within a school" of the Faculty of Arts and Sciences.
By becoming part of SEAS, computer science will be positioned at the heart of Yale's efforts to spur innovation and strengthen a culture of interdisciplinary learning. That approach is exemplified at Yale by such facilities and programs as the Center for Engineering Innovation and Design, the Yale Entrepreneurial Institute, and Yale's Institute for Network Science.
"A strong coupling between computer science and engineering is vital to the vibrancy of both disciplines," said T. Kyle Vanderlick, dean of SEAS. "The incorporation of computer science into SEAS, and our collective growth, will allow Yale to continue to compete for the very best students and faculty."
In addition to new faculty, Yale will invest in a host of new teaching initiatives relating to computer science. Many of those programs will be geared to undergraduates. For example, in the fall Yale will join forces with Harvard on CS50, an introductory survey course that focuses on basic programming and web development. Both campuses will host intensive classroom sessions throughout the semester, with undergraduate learning assistants helping to lead sections, grade problem sets, and field student questions. This novel pedagogical experiment marks both the first use of undergraduates so extensively in course staffing at Yale and the first large-scale application of a flipped-classroom model across university campuses.
"Bringing CS50 to Yale is part of a concerted effort to demonstrate that the fundamentals of computer science are essential to training not just exceptional computer scientists but all of our next generation of leaders and scholars," said Brian Scassellati, professor of computer science, cognitive science, and mechanical engineering at Yale, who will be the Yale instructor for CS50.
Yale will also begin work immediately on an underground teaching concourse that physically links the Department of Computer Science with other main engineering buildings. The 10,000-square-foot space will be designed specifically for undergraduate engineering laboratories and hands-on learning experiences that bolster degree programs offered by SEAS.
The new efforts will join an existing roster of leading-edge computer science courses and research initiatives at Yale. These include:
Alexander Thomson, a recent Yale doctoral program graduate, was honored with the 2015 SIGMOD Jim Gray Dissertation Award, which recognizes innovative database research. Thomson's thesis proposes a novel system to provide scalable support for transactions within file systems and distributed databases.
Through the Yale Institute for the Preservation of Cultural Heritage, faculty member Holly Rushmeier and her colleagues are creating computational methods for conservation data management, visual analysis of medieval manuscripts, and 3D models of sculpture.
Faculty member Scassellati leads an NSF Expedition in Computing, one of the largest federally funded research projects in computer science. Scassellati and his team are building robots that encourage social, emotional, and cognitive growth in children, including those with social or cognitive deficits.
Faculty members Feigenbaum and Bryan Ford, along with Ph.D. student Aaron Segal, are working on innovative, privacy-preserving surveillance. They are developing cryptographic protocols that enable intelligence and law enforcement agencies to mine "cell tower dumps" to track and catch known terrorists and criminals, while protecting the privacy of thousands of innocent bystanders.
Faculty member Zhong Shao's group is working at the forefront of programming languages and operating systems. The group is developing new language-based technologies to make software systems more secure and reliable.
Students in CPSC 113, a new course taught by faculty member Daniel Abadi, build prototypes of consumer web or mobile software applications. They also develop actionable business plans for building start-up companies around their applications.
Faculty member Julie Dorsey's course on "Advanced Topics in Computer Graphics" is extending the boundaries of digital drawing. In addition to computer science majors, the course includes students from such majors as architecture, film studies, mathematics, and Japanese.
"We first launched a start-up when we were students ourselves in Yale College, and we've stayed in close touch with campus in the decade since," remarked Twitch co-founder Shear. "The vitality of engineering and entrepreneurship on campus has kept growing – and this new investment in Computer Science is excellent news for Yale and its people to go to even greater heights."