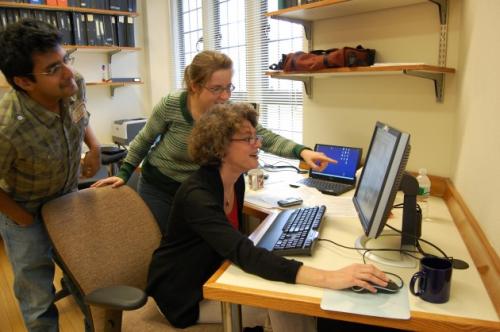 Tamar Gendler '87 likes to save paper. So she prints her problem sets for PSYC 518, "Multivariate Statistics," on the back of discarded pages from the rough draft of a book she is writing. Her grades have lately been sliding a little, from an "Excellent" on the first two assignments to only a check mark for completion of the most recent two.
But Gendler is not a typical Yale student. In fact, she's not really a Yale student at all — she's a professor.
Gendler, the chair of the cognitive science program and a specialist in the philosophy of psychology, was awarded a 2009 Mellon New Directions Fellowship this past spring for her body of scholarly work, which has focused largely on the topic of imagination and the responses it produces in relation to experience. Each year, the award grants one academic year's salary to between seven and 10 recipients to further their academic research for one year and two summers through training outside the field in which they specialize. Humanities or social science professors who have received their postgraduate degrees within the last five to 15 years are eligible to receive the award, which is granted by the Andrew W. Mellon Foundation, according to the foundation's Web site. The Andrew W. Mellon Foundation was in part created by Paul Mellon '29, a prominent Yale donor who provided the building, funding and artwork for the Yale Center for British Art and endowed Morse and Stiles colleges.
The award allows Gendler to take a year off from teaching to enroll in classes that are relevant to her field. Gendler said she opted to take classes in order to further her understanding of the scientific side of her research. She is taking nine courses this semester.
Gendler, who first stepped onto Yale's campus as an undergraduate in 1982, said it is "priceless" to be able to become a Yale student again. She said she is taking the experience very seriously, even eating with fellow students in Commons every day for lunch. Still, despite camaraderie with her new peers, Gendler can joke about the fact that she graduated from college 22 years ago.
"I'm the only one in my classes with reading glasses," she said.
Gendler, who was notified last November about the award, started taking classes during the spring semester of the last academic year. She said she hopes her coursework will allow her to understand the more scientific and technical aspects of articles she will need to read for her research, as well as to answer fundamental philosophical questions about the human soul. In her application for the fellowship, Gendler noted that her experience teaching a freshman seminar on the human condition reminded her how to approach overarching philosophical questions in an interdisciplinary manner.
Tackling a hefty nine-course load this semester — three lectures series, three undergraduate classes and three labs with psychology professors John Bargh, Paul Bloom and John Dovidio — Gendler said she did not get to browse the Blue Book like her fellow students because she had to send in a completed schedule proposition when she applied for the Mellon grant last September.
But after growing accustomed to Yale life as a professor and as an undergraduate, Gendler said she is in her element.
Gendler's current experience as a student is a "natural extension" of working at Yale, she said last Tuesday in her office in Connecticut Hall, which overlooks Bingham Hall, the dorm she lived in when she was a freshman.
Gendler admits, however, that balancing her coursework and family life can be difficult. For example, Gendler earned a low grade on a statistics problem set for handing it in late because she needed to pick up her children early from school. From 5 p.m. until 10 p.m., her evenings are usually reserved for "family time," she said.
But Gendler said she still lives like a college student despite her family life. She said she has always stayed up until 2 a.m. and has never held the sleeping schedule of a "grown-up."
Like any other Yale student, Gendler also must deal with the challenges of demanding coursework. On her statistics midterm last Monday, Gendler said, she could not answer one of the questions and ended up writing "I'm sorry, I don't know the answer to this" in the allotted space.
"I used to be more embarrassed I didn't know things as a student," she said, adding that now as an adult, she is much more comfortable admitting she may be completely unfamiliar with certain fields. After all, that's why she is taking classes, she said.
The Mellon Fellowship does not monitor the grades each recipient receives from enrolling in courses.
Some students who were once enrolled in Gendler's classes have now become classmates with her. In her statistics class, she sits between two of her former students. Some students who had only heard of Gendler as the chair of the cognitive science department said they now know her on a more personal level.
Zarrar Shehzad GRD '15, one of Gendler's lab partners in Gregory McCarthy's "Research Methods: Human Neuroscience" class, said he had not noticed that Gendler was any different from his two other lab partners, who are fellow graduate students. In fact, while Shehzad and Gendler were working together in the lab last Thursday, she even asked him about that statistics midterm they had both taken earlier that week.
"I didn't know the answer to one problem on the midterm — it was about degrees of freedom," Gendler said to Shehzad. She asked him if he had been able to answer the problem. With a smirk, Shehzad said he had. Gendler groaned in response.
Gendler said she was initially worried students would feel uncomfortable taking classes with her, but she said she has adapted well to the situation.
"They all called me 'Tamar' even when I was their professor," Gendler said, explaining that she always introduced herself to her students by her first name. "It's not any different now."
Even though Gendler is taking on the responsibilities of a Yale student, she has also continued her tasks as adviser. Aaron Norby GRD '13, who has been working under Gendler as a doctoral student, said that even though Gendler is basically acting as a Yale student, she is still available to offer advising.
Norby said he is excited Gendler is doing this.
"She'll come back with this whole new body of knowledge," Norby said. "I don't think there's any way to look at that except as a positive thing for her students."
Correction: October 19, 2009
An earlier version of this article misstated the name of "Research Methods in Human Neuroscience" professor Gregory McCarthy.