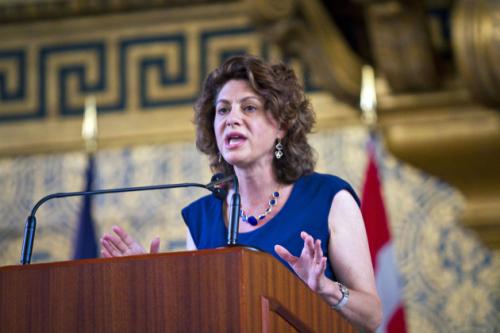 Despite a fire alarm that went off Tuesday afternoon 20 minutes before this year's freshman orientation keynote address was scheduled to begin, 1,359 members of the class of 2017 filed into Woolsey Hall to hear words of advice from philosophy and psychology professor Tamar Gendler '87.
In her speech, Gendler called upon a Jewish parable to encourage students to maintain equal amounts of humility and arrogance as well as commonality and diversity. Students who feel as though they do not deserve to attend Yale should balance those feelings with pride that they are the focus of the University.
"There will be moments where you will feel convinced that you do not belong here, that you are a hopeless fraud, that the Admissions Office made a terrible mistake in not eliminating your application first round," she said. "You need to create for yourself something that … reminds you that you do indeed belong here."
According to the parable, over 300 years ago, Rabbi Simcha Bunim of Pshischa told his disciples to keep two pieces of paper in their pockets — one that says, "For my sake the world was created," and another that says, "I am but dust and ashes," Gendler said.
Another version of the same story says that one piece of paper reads, "All others experience the world as I do," while the second slip says, "My perspective is mine alone," Gendler said, adding that students should balance between appreciating different perspectives and finding common ground with peers. She said humans have a natural tendency to assume that all people view the world in the same way, so they can make false judgments about another's sexuality, religious beliefs or affiliations. When trying to listen or speak to classmates, or read historical texts, Gendler said, students should remind themselves that there are always novel perspectives to be learned.
Gendler said in an interview after the event that she chose to reference the Jewish tale because of its application to a range of settings, including students' "personal lives, friendships, academic learning and futures."
Four students interviewed said they enjoyed the address because it emphasized tolerance in an academic and social context.
"As an international student, the theme of diverse perspectives resonated with me because here in America, I am going to come across so many more perspectives than I ever have before," said Alfred Delle '17, who is originally from Ghana.
Elisabeth Bernabe '17 said she thought the talk was "very current" because Gendler used language like "twerk" that appeals to a young audience.
Astronomy and physics professor Charles Bailyn '81 delivered the keynote address at last year's freshman orientation.