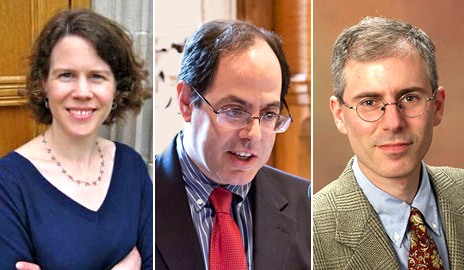 In an effort to strengthen faculty leadership in the Faculty of Arts & Sciences (FAS), Tamar Gendler, dean of FAS, has announced a new governance structure.
The new structure, she announced in a memo to faculty colleagues on Sept. 17, primarily reconceives the role of divisional directors in FAS. In addition to chairing (in most cases) their respective advisory committees as they have done in the past, divisional directors will have the expanded responsibility for taking "a leadership role in identifying and articulating the intellectual priorities of their divisions, and in working to align resources with these priorities," Gendler wrote.
Gendler has appointed three full-time faculty members to serve in the newly expanded roles as divisional directors: Amy Hungerford, professor of English, as divisional director for the Humanities, Alan Gerber, professor of political science, as divisional director of the Social Sciences, and Scott Miller, the Irénée du Pont Professor of Chemistry, as divisional director for the Sciences. Their part-time service as divisional directors will allow all three faculty members to continue their research and teaching.
Hungerford and Gerber — the current chairs of the Humanities and Social Sciences Advisory Committees, respectively — will continue to serve in those roles and will also be involved in "the day-to-day workings of the Office of the FAS Dean, making sure that administrative decisions align with intellectual priorities," Gendler wrote. Hungerford will step down as master of Morse College at the end of this academic year.
Miller, who currently chairs the Department of Chemistry, will begin service as divisional director for the Sciences in July 2015, when he completes his term as chair. At that time, he will also become chair of the Physical Sciences and Engineering Committee, which is currently chaired by Jonathan Ellman, the Eugene Higgins Professor of Chemistry and professor of pharmacology. Dr. Daniel DiMaio, the Waldemar Von Zedtwitz Professor of Genetics, professor of molecular biophysics and biochemistry, and of therapeutic radiology — as well as deputy director of the Yale Cancer Center — will continue his three-year term as chair of the Biological Sciences Advisory Committee.
Gendler noted that in the case of the Sciences, FAS will retain two distinct Advisory and Tenure Appointment and Promotion committees, each chaired by a faculty member who will continue to have all of the "old" responsibilities of the traditional divisional directors as well as the new role of sitting on the Faculty Resource Committee. As divisional director, Miller, will "think about the FAS sciences as a whole" as he guides FAS leadership in resource allocation and intellectual priorities.
In her memo to colleagues, Gendler said she hoped that the expanded divisional director roles "will ensure that faculty are present, effective, and fully informed in the most central decision-making and strategic planning both within and across departments and divisions in ways that will allow us, together, to build an even stronger FAS."